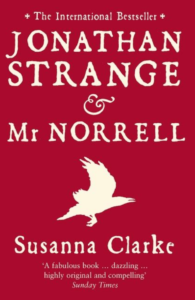 I was made aware of this book by another book (shocking, I know). The second book is called A View from the Cheap Seats, and it's a compilation of speeches and essays and articles by Neil Gaiman (whom I quite admire, as you may now have guessed). It's also an excellent read, and I would recommend to any reader to pick that one up, too. Anyway, Jonathan Strange and Mr Norrell is quite an extraordinary work. Do be aware, it's a bit of an undertaking (kind of like what a tree removal service might have to go through in some particularly foresty yards, except much more enjoyable, I imagine), compared to some of the others I've mentioned here; the version I bought consisted of a little over 1000 pages. It's totally worth it, but just be aware of the length!
Okay, so, the premise. The story starts out in York, England, in 1806, and we are introduced to a group of Englishmen who call themselves the Learned Society of York Magicians. Now, it's important to know that these men are theoretical magicians, not practical magicians; that is, they only study magic, they don't actually perform it. Here, we are introduced to Mr. Segundus and Mr. Honeyfoot, both of whom are interested in why practical magic isn't practised in England anymore, and decide to travel to a place called Hurtfew Abbey, where there lives a man who claims to be the only practical magician in England, Mr Norrell.
After their (rather disorienting) visit, the two go back to the York society and report that, though they can't explain how, they are certain that Norrell is, in fact, a practical magician. The society do not believe them, and challenge Norrell to perform magic in front of them. Norrell replies that he will, but  if he does succeed in performing magic (being a miserly, crochity, selfish old man), then all the gentlemen of the society must never practise magic again. They all agree. Excepting Mr. Segundus (and this will become rather important later on, I assure you).
We don't meet Jonathan Strange for a couple hundred pages, and when we do, we do not encounter him as a magician. In fact, he's been brought up by a wealthy (if unkind) father, and has never actually had to work a day in his life. He decides to take up magic after hearing a prophecy directed at him by a very strange man – who claims to be a magician himself – called Vinculus (who, though unknown by Strange, is well known by the audience by now).
So, now we have two magicians, one who wants to b the only magician in the world, and another who would like to learn from him. Both are living in London, and both develop connections in society and the government. Norrell brings a politician's wife back from the dead, and Strange helps fight the war against Napoleon. There are a whole host of wonderful characters you meet as the novel progresses, and you'll get attached to and invested in every single one. In this book, the mundane is met by the magical, and questions of ethics and law are brought up not infrequently. This is a world in which the goings on of upper-class London is pulled apart by unwanted trips to Faerie, furiously feuding magicians, and a pending return of the legendary Raven King. You want to read this book. Pick it up, and let the magic seep out of its pages into your life.