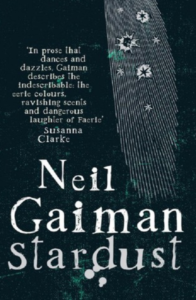 You may be thinking that the title Stardust sounds familiar, but that you don't remember reading it. That's probably either because you have a friend who is an avid reader and has raved about it to you (because he or she, correctly, has likely insisted that you read it), or because you have either seen or heard of the movie. With Claire Danes, Robert De Niro, Michelle Pfeiffer, Ian McKellan, and Ricky Gervais involved, it was a pretty star-studded flick (and, for the record, the main character was played by little-known Charlie Cox). And the movie was lovely. It was a long time in the making and Neil Gaiman had a very large part in its creation, which likely had lots to do with its quality (just like, I imagine, the work of roofing contractors would be better if the designer of the house were there to oversee it).
All that said, all that praise given, I'm going to say it – the book was better. I know. How cliché. But it's true, though. Before I tell you why, let me summarize the plot for you. Starts off with a young fellow called Dustan Thorn, who is the father of the main character. He lives in England in the village of Wall, a rather curious place, right on the border of Faerie. He crosses over into Faerie for the market that occurs every nine years, and has … relations … with a young woman there. Skip ahead to a baby getting delivered to this chap's door nine months later, when he's already married to another girl. He's got some splainin' to do. But anyway, this baby is Tristran, our hero.
Skip ahead a bit (because this is, after all, a summary), to when Tristran falls in love with a young girl called Victoria. Victoria is the worst. She's conceited and egotistical and just … the worst. Anyway, because Tristran is a young, stupid boy, he promises to run over into Faerie and get a falling star for Victoria. Victoria agrees, thinking, this kid will never do it. Well, he hops over into Faerie, and he does find the fallen star. Turns out, it's a woman, called Yvaine. And she's being chased by not one, but two parties who want her dead. First, we have the witches, who want to eat her heart to restore their youth (classic witch move). Then, we have the princes of Stormhold (the kingdom in Faerie), who need to get a hold of the Yvaine's necklace, for the first one to get a hold of it will become king of Stormhold (typical princes).
SPOILERS
In the end, Tristran and Yvaine fall in love, it all works out, but much differently in the movie than in the book. In the movie, Tristran finds his mum, who turns out to be a princess, and she is reunited with his father (who isn't married in the movie), and they all live happily ever after. Not so in the book. In the book, they do find his mother, but she turns out to be kind of like Victoria, in that she's vain and conceited and rather un-caring. Not my fave. And then Tristran chooses to live in Faerie forever, and never sees his English family again. And then, after Tristran and Yvaine have travelled a bit together and then rule Stormhold, Tristran dies. But Yvaine doesn't. Yvaine won't. Yvaine is left to rule Stormhold all alone, and can never get back to the stars. She stares at them every night, but it won't do her any good. The ending in the book is to beautiful, but so tragic, and just more real, isn't it. Eventually, there is only one lover left. Eventually, everything you new in one part of your life will just, kind of … end. I haven't been able to really explain it properly, the way this ending makes me feel. It devastates me, but that's okay. It's the kind of book you hold in your hands for while after you've finished it, just sitting on the couch, wondering why you feel the way you do. And don't worry if you can't answer that. Maybe you're not supposed to be able to.