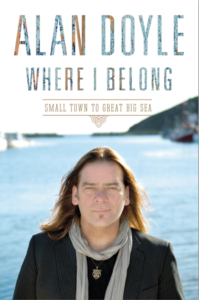 Some of you might be familiar with Alan Doyle as the lead singer form the Newfoundland Band Great Big Sea. Others of you might be going, what? Who? Either, way, no big deal, I'm still going to recommend this book to you. Admittedly, I've always been more into fiction than I have been into biographical stuffs, but I've read a couple lately, the other being the brilliant H is for Hawk by Helen Macdonald … read that, too. I thoroughly enjoyed the experience, similar to the services of plumbing Hamilton ON. Where I Belong, though you might expect it to be about Alan Doyle's journey to stardom (well, sure, East Coast music stardom, but still quite popular, at least in Canada) but it's primarily about growing up in Newfoundland, and that's why I love it.
Though Doyle does talk about getting started in music and meeting bandmate Sean McCann, most of what he discusses are growing up in the small Newfoundland town of Petty Harbour. He grew up in a small house with his parents and three siblings, with only one source of heat, and no indoor plumbing. He'd get up at all hours of the morning to get to the docks and help out the fishermen to make a little bit of money. He saw a man with a giant fish hook shoved through his hand, a sight so horrible it made him vomit. He'd get chased by a vicious dog on the long walk to school. To kids and parents today, living in some subdivision in Southern Ontario, this may sound barbaric. But he loved every minute of it, and he looks back on it with such fondness as to make you wish you'd lived it yourself.
It's such a Canadian story, too. That ever-so-Canadian East Coast upbringing, that life on the Rock, that only so many people have the opportunity to live. Some might not call such things as I've just mentioned opportunity, of course, but I certainly would. Because along with the hardship and the cold and the early mornings came a kind of freedom that those of us who grew up in protected yards didn't have. In that community, and in that time during which Alan Doyle grew up, there was no need to worry about your kids running into those who would do them harm. It just wouldn't happen. And there weren't fences and barriers and every which thing put in place to keep the kids from doing anything dangerous. They just did it. And they were fine.
And that's not to say that you should encourage your kids to run along cliff faces. All I'm saying is that the stories Doyle tells about growing up in that community, where they were thankful for everything they had and enjoyed every moment that they could, without paranoia and unnecessary restriction, are beautiful. And I know it seems that I'm talking more about the advantages of living in a different time and place than I am about the book, but, to me, that is what the book is about. It's called Where I Belong, and that place, Petty Harbour, is where Doyle feels he belongs. And he traces his success back to there, to his musical family, and his encouraging community, and the opportunity to bask in the simple pleasures of a wild and unrestrained childhood. And I love that.